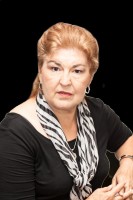 Avis Goodhart
Out of the Dust: Story of an Unlikely Missionary is a testimony to the way God uses broken things and impossible circumstances to show His power in our world. Avis Goodhart, the unlikely missionary of the title, started and maintained a missionary presence in Peru through her Go Ye Ministries. With my dear friend Marti Pieper, Out of the Dust tells Avis's story about how she came to serve God through missions.
Marti Pieper
At the end of each chapter is the testimony of someone who went to Peru and shared the ministry with Avis. Some came for a week's mission trip. Some came and stayed. Some led women's Bible study and craft classes, empowering women who felt alone and discarded like the trash in the landfill on which their cardboard homes sit. Some adopted orphans from the orphanage. Some taught at the Go Ye Ministries School. Avis's life may not have seemed extraordinary, especially her childhood, but her life and God's use of her reinforces the idea that God's power is even more evident when His servants are ones who has little to no power, education, wealth, or status.
Missionary prayer groups and women's groups will find this book about the work Goodhart began in Peru a good study book. Bible study groups may find this book challenging to put feet to their knowledge of the Bible. Churches may find Out of the Dust an impetus to go forth from the comfort of the pew to those who need their help and compassion.
and interviews on 100 Huntley Street
https://www.youtube.com/watch?v=9ydA3wudgQY
&
https://www.youtube.com/watch?v=2LnIW-Du6Ec
.
Pray and act on what God is calling you to do out of the dust of your ordinary life. God will make your service to Him extraordinary, as He has done with Avis Goodhart and her multitude of helpers.
The publisher has provided a review copy in exchange for my review.